On the 14th of October 2016, Norfolk Group has celebrated its 25th anniversary at Norfolk Hotel, the remarkable venue that marked the first start of Norfolk Group in Vietnam.
At the intimate event, Norfolk Group was honored to have the presence of Ms. Karen Lanyon, Australian Consul General in Ho Chi Minh City, the former government leaders as well as distinguished guests, partners and friends, who have given significant support to Norfolk Group from the very first days and over the long journey of 25 years of development.
In 1991, Norfolk Group was established as one of the first foreign companies pioneering international standard real estate developments in Vietnam. During the 25 years of operation, Norfolk Group has involved with major projects in the Central Business District of Ho Chi Minh City through its joint venture portfolio and project and property management consultancy provided to partners such as Norfolk Hotel, Norfolk Mansion, PDD Building. Its latest projects include the luxury waterfront Norfolk Residences in the popular Neutral Bay community on the shores of Sydney Harbour, and the five-star, luxury resort Six Senses Hideaway in the untouched and breathtakingly beautiful Con Dao Islands of Vietnam.
""As we reflect and look back, we have overcome many obstacles in our path to be here today. We are very fortunate to have such amazing national partners such as Ben Thanh Group, Nagecco Company for outstanding support and co-operation during all these years."" – – Mr. Thanh Hoang Nguyen, Chairman of Norfolk Group expressed his sincere appreciation.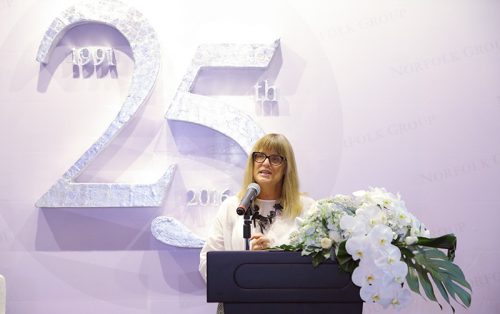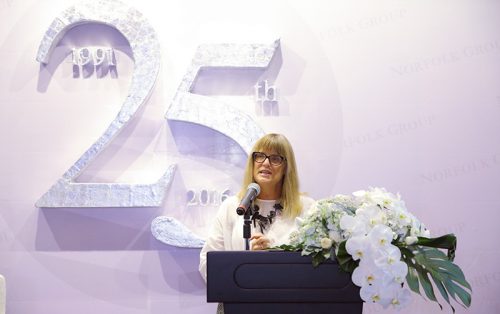 "Good Evening,
Hoang, Distinguished Guests, Ladies and Gentlemen,
It is indeed a great pleasure for me to be here today. And an honor for me to be here today to celebrate the 25th anniversary of Norfolk Group. What a remarkable achievement.
As Australian Consulate General, I am proud to be here tonight to acknowledge to be success of an exceptional Australian. Hoang has returned to the country of his birth Vietnam 25 years ago with a dream which he worked hard to make it reality. Twenty five years ago, the Australian Minister – Dr. Neal Blewett stood where I am now or closed to and opened the door of Norfolk Hotel- the first international standard hotel in Ho Chi Minh City. The Norfolk Group has been carefully involved of the development of Ho Chi Minh City – Central Business District (CBD) as you saw before Norfolk Hotel, Norfolk Mansion, PDD Building, etc… It is now investing in Vietnam rapidly development tourism sector with Six Senses Hideaway in Con Dao.
Along way, Hoang has contributed economic development of Vietnam and changed the life of many Vietnamese for the better. Not only Norfolk Group employed many people here in Vietnam to mange wedding and hair business, Hoang is also deeply generous and committed for plan purpose donating his time and money to assist those in indeed and to ensure young Vietnamese students receiving education. As Michael Mann was aware, Hoang also assisted the establishment of RMIT University in Vietnam – another great Australian success story. This has educated thousands upon thousands of young Vietnamese professionals. With the Norfolk pine of Manly in Sydney proudly displayed in the company logo, Hoang is perfect example of what Australia & Vietnam can achieve together.
Hoang, your country is proud of you. I wish more of my congratulations along with everyone here tonight another the next 25 years will be more successful as the first 25 years.Congratulations. Thank You." – Ms. Karen Lanyon, Australian Consul General in Ho Chi Minh City also gave her speech.