In the exciting atmosphere of a new school year, on Friday 30/08/2019, Luong Van Can Fund successfully organised the Scholarship Award Ceremony for 142 students who are pursuing their studies in various Vietnamese universities. The ceremony's venue was sponsored by Queen Plaza Ky Hoa Convention Center.
The ceremony honorably welcomed the presence of PhD. Nguyen Duc Nghia – Permanent Deputy Chairman of the Association of Vietnam's Universities and Colleges, Chairman of LVCF's Selection Committee; Mr. Huynh Quang Hai – permanent director of VSIP Group Management Council, Chairman of VSIP Group's Management Council in the north and middle areas of Vietnam, a member of LVCF's Selection Committee; PhD. Nguyen Thi Xuan Hong – Lecturer at Pham Ngoc Thach University of Medicine, Deputy Chairman of LVCF's Management Council; representatives from Norfolk Group, Officience Company, Max Education Academy together with LVCF sponsors, journalists and others companion organisations.
In this academic year, the award has been handed to 65 candidates winning the selection round and continued to support 77 scholarship recipients from previous years. They are all hard-working students with great effort and obvious plan for the future.
The ceremony significantly summoned up the five-year period of the Fund in accompanying and supporting excellent individuals. This journey was such a phase that laid a stable foundation for the Fund to head up a prospective future. Also in the celebration, the students had a chance to attend the talkshow "Embark to return" with the heart-touching sharings of LVCF's alumni about the values they acquired and inspired by the Fund, which conveyed the message: "No matter where you were at the starting points, you would definitely be able to become the perfect version of yours".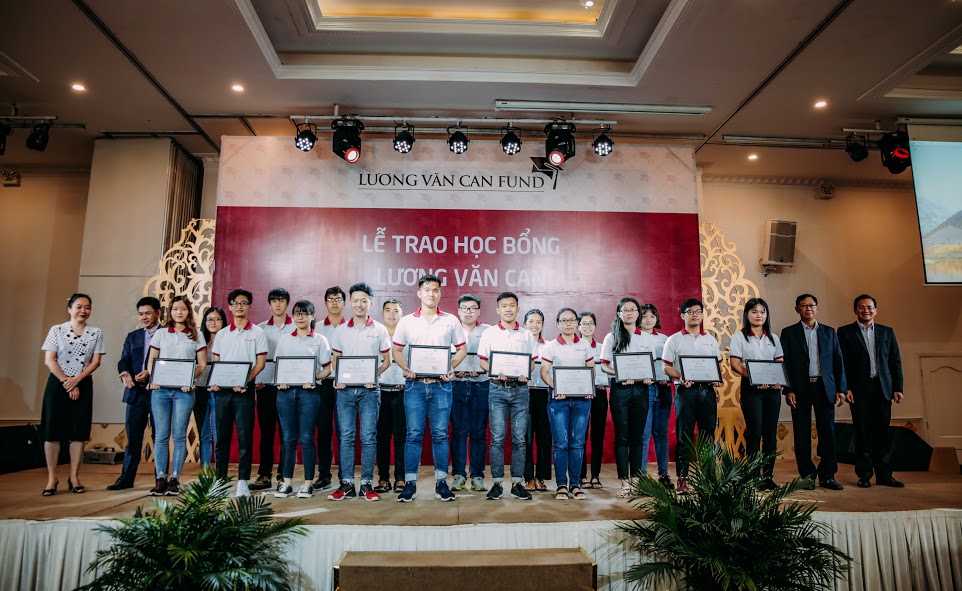 Subsequently from 30/08/2019 to 01/09/2019, an annual welcoming camp was held at Can Gio Campsite Center with a view to promoting students'  understanding of LVCF's values and missions as well as enhancing the connections among the scholars.
The motto of this year's camp was "Go beyond yourself", which delivered the expectation that the students could firmly burst their limits to pursue their dreams and then dedicate themselves to the community. Additionally, this camp participants also had an opportunity to experience digital and plastic detox, which allowed them to live greener to the environment and closer to their friends.
Besides the joyful activities, the camp joiners were also equipped with latest updates on recent matters in the society as well as receiving invaluable advice from the talkshow "Active Citizen Spirits" in the morning of 31/08/2019. Came sharing with the students were Ms. Doan Thi Ngoc – lecturer majoring in Liberal Education of Social Science Department, Hoa Sen University; Ms. Thai Thi Chau Nhi – CEO at Environment and Development Action & Connection Center – CHANGE; Mr. Le Nguyen Duy Hau – Lawyer at Duane Morris Law Firm, a member of Human Right Space HRS, all of whom were masters in their own fields and shown enormous devotion to the community.
Taking place in only 3 days, Luong Van Can Camp did evoke unforgettable memories among the participants, not only about the useful acquisitions but also the happiness of being a member in a team. Undoubtedly, Luong Van Can Fund and its 142 members have been well–prepared and ready to begin the onward journey.
Source: www.lvcfund.org.vn