CON DAO, Vietnam – April 20, 2020 – Six Senses Con Dao welcomes Eric Hallin as the new General Manager and Hannah Loughlin as the new Director of Sales and Marketing. 
As the newly appointed General Manager of Six Senses Con Dao, Eric Hallin brings with him over 40 years of international experience in luxurious hospitality management to the tropical paradise. 
Growing up in Africa and Europe, he attended the Universities of Malawi and Stockholm before joining the travel industry. Fluent in several languages, his career has spanned several countries, including France, Greece, Maldives, Spain and Thailand. His management expertise has contributed to the success of many properties, including the Six Senses Hideaway in Koh Samui, voted "Best Hotel in the World" by Condé Nast Traveller readers in 2008. 
Taking his steps into the pristine island of Con Dao, Eric brings a fresh breeze to the resort and its hosts and shares his working philosophy that a general manager is only as good as his ability to instruct, motivate and empower his team. Eric also attaches importance to community issues and local business development. To do this he has held many leading positions in PATA, chambers of commerce and Skål.   
British born; based in South East Asia since 2016 Hannah Loughlin, has cultivated her knowledge, leadership and management skills in sales and marketing since 2002 in Grosvenor House, London before going on to join brands such as Design hotels, and spearheading the field team of prestigious iconic Hotels such as Sofitel London St James, InterContinental and Anantara, Angkor. 
Prior to her new role at Six Senses Con Dao, Hannah was leading the sales, operations and finance team in Cambodia as General Manager for Trails of Indochina, a luxury inbound agency across Indochina. With her goal-oriented and strategic mindset, and a great deal of passion for luxury travel, Hannah makes a perfect fit for Six Senses Con Dao.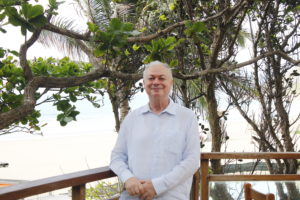 Mr. Eric Hallin – New General Manager of Six Senses Con Dao 
Ms. Hannah Loughlin – New Director of Sales and Marketing of Six Senses Con Dao